EKO HOT BLOG
United State Lawmaker, Lauren Opal Boebert has vowed to carry a Glock handgun to Congress during her term in Washington, D.C.
According to the report by BBC News, the 34-year-old Republican Congress woman, representing Colorado's 3rd District in the House of Representatives, pledged that she will be coming to the Congress with a handgun, a move that is believed to be unusual.
Lauren who was born on December 15, 1986, is an American businesswoman and politician who became famous as a gun-right activist in September 2019 when she got involved in gun-rights activism, by challenging Beto O'Rourke at an Aurora town hall meeting during his 2020 presidential campaign.
READ ALSO: Meet The Lady Who Dated And Married A Briefcase After 5 Years
Ever since she has been known as one of the front-liners advocating for open possession of firearms in the United States.
According to wikipedia.org, On January 1, 2021, Lauren Boebert wrote to House Speake, Nancy Pelosi and House Minority Leader, Kelvin McCarthy, a letter signed by other Congress members, asking that the 1967 law that exempts members of Congress from a Capitol Hill ban on firearms be retained giving them the legal freedom continue to carry guns.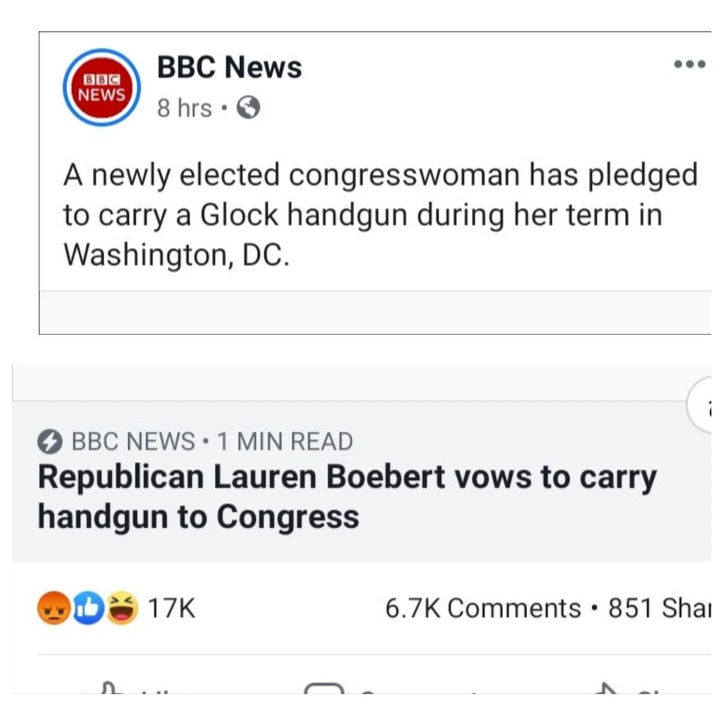 Advertise or Publish a Story on EkoHot Blog:
Kindly contact us at ekohotblog@gmail.com. Breaking stories should be sent to the above email and substantiated with pictorial evidence.
Citizen journalists will receive a token as data incentive.
Call or Whatsapp: 0803 561 7233, 0703 414 5611