Eko Hot Blog reports that President Muhammadu Buhari on Saturday enthusiastically threw his weight behind the presidential flagbearer of the All Progressives Congress (APC), Bola Tinubu.
EDITOR'S PICKS  
Speaking at the party's rally in Nasarawa State, Buhari called Tinubu the next president of Nigeria.
According to the president, the APC presidential candidate is a "competent Nigerian" who will give all he has for the country.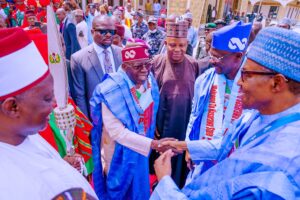 He noted that he will continue to campaign for Tinubu amid speculations that they had fallen out.
"I'm very pleased today to be part of this campaign for Bola Ahmed Tinubu as the next president of the Federal Republic of Nigeria," he said.
"I have known him for more than twenty-six years ago. I will continue to campaign for Bola Tinubu. He is a committed Nigerian and I believe he will give all he has to this country and to you Nigerians."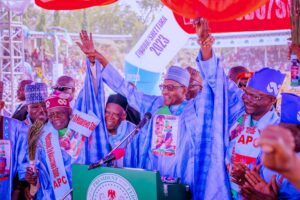 The president's words of support come amid reports of rancour in the APC, after Tinubu's outburst during the party's presidential rally in Ogun, where he expressed dissatisfaction over the fuel and currency scarcity in the country.
"Even if you change the ink on naira notes, what you want will not happen. We will win. That umbrella party will lose. We will take this government from them — saboteurs that are dragging power with us," Tinubu said.
FURTHER READING 
Kaduna State Governor, Nasir El-Rufai, also recently claimed that "some elements in the Aso Villa" are trying to make the APC lose the presidential poll because their candidate (presumably Vice President Yemi Osinbajo) lost the primary election.
Click here to watch our video of the week:
---
Advertise or Publish a Story on EkoHot Blog:
Kindly contact us at [email protected]. Breaking stories should be sent to the above email and substantiated with pictorial evidence.
Citizen journalists will receive a token as data incentive.
Call or Whatsapp: 0803 561 7233, 0703 414 5611