Onochie's name was forwarded to the Senate Committee on INEC for screening by President Muhammadu Buhari.
Special Assistant to the President on Social Media, Lauretta Onochie, has denied her membership of the ruling All Progressives Congress (APC) before the Senate Committee on the Independent National Electoral Commission (INEC).
Although she admitted to swearing an oath at an Abuja Federal High Court that she was a member of the APC.
According to The PUNCH, she told the committee that she stopped being a member of the ruling party immediately after the 2019 elections.
Onochie further told the panel that May Agbamuche, a serving INEC National Commissioner from Delta State, represents Cross River on the INEC board.
Read also: PDP Storms NASS To Protest Against Nomination Of Onochie As INEC Commissioner
The content of Onochie's June 30, 2021 sworn affidavit reads in part:
In the High Court of the Federal Capital Territory in the Abuja Judicial Division Holden at Abuja
Between Lauretta Onochie Plaintiff
And
Emeka Ugwuonye-Def endant
PLAINTIFF'S WITNESS STATEMENT ON OATH
I, LAURETTA ONOCHIE, Nigerian citizen, of c/o 13 Nouakchott Street. Wuse Zone 1, Abuja, Nigeria, do make an oath and state as follows:
That I am the Plaintiff in this case by virtue of which | am conversant with the facts of this case.

That I am an educationist having served as Headmistress of Auntie Margaret
International School, Calabar and Principal of Holy Child Secondary Schcol, Calabar. | have also served as a Lecturer at the Epping Forest College, Essex, United Kingdom.
That I am also engaged in active politics and a member of Neighbourhood Watch and has also contested the Local Government Elections under the Conservative Party in the United Kingdom. I am also a member of the All Progressives Congress and a volunteer at the Buhari Support Organisation (BSO).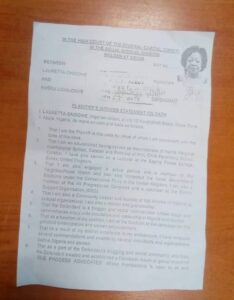 YOU MAY ALSO LIKE
---
Advertise or Publish a Story on EkoHot Blog:
Kindly contact us at [email protected]. Breaking stories should be sent to the above email and substantiated with pictorial evidence.
Citizen journalists will receive a token as data incentive.
Call or Whatsapp: 0803 561 7233, 0703 414 5611