A Nigerian woman whose name is yet to be identified has been arrested by Italian authorities for running a prostitution ring in the Puglia province of Foggia, Italy.

According to the reports, she will threaten her victims using voodoo magic.

The Nigerian woman is currently in pre-trial custody and is facing charges of human trafficking, enslavement, and aiding and abetting illegal immigration, amongst many other crimes.
EKO HOT BLOG reports that Italian authorities have arrested a Nigerian woman in the Puglia province of Foggia for allegedly forcing young women and girls into prostitution by using voodoo, locally known as 'juju,' as a threat.
The woman, believed to be the 'Madame' of a sex trafficking ring, was arrested on Tuesday, February 14, 2023, in collaboration with the police in Foggia, according to a statement by the police.
EDITOR'S PICKS:
The suspect allegedly organized a prostitution ring and recruited young women in Nigeria to work as prostitutes in Italy, forcing them to work through deceit and voodoo rituals, including death threats against the victims and their families.
The suspect was alleged to have convinced her victims to flee detention centers after their arrival in Italy and work for her by intimidating them through juju rites.
She is in pre-trial custody and is facing charges of human trafficking, enslavement, aiding and abetting illegal immigration, sex trafficking, and money laundering. She is also accused of contributing to committing a crime organized by a transnational organized criminal group.
According to police, the investigation started after a young Nigerian woman arrived at the commercial port of Augusta in Sicily in July 2016.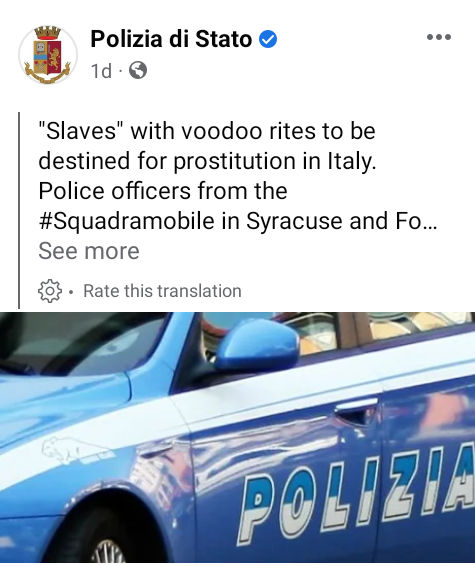 The woman had traveled by bus from Nigeria to Libya and then crossed the Mediterranean to reach Italy, taking on a debt of 30,000 in "travel expenses."
During her detention in Libya, she learned that she would be forced to work as a prostitute and was physically and mentally abused by the men watching her.
After her arrival in Italy, the woman sought help from the police. The investigation, coordinated by DDA anti-mafia investigators in Catania, has been ongoing since then.
Human trafficking is a significant problem in Italy, with many young women and girls from Nigeria and other African countries being forced into prostitution.
FURTHER READING:
The Italian government has been taking measures to combat human trafficking and sexual exploitation, but the problem persists.
Click here to watch our video of the week:
---
Advertise or Publish a Story on EkoHot Blog:
Kindly contact us at [email protected]. Breaking stories should be sent to the above email and substantiated with pictorial evidence.
Citizen journalists will receive a token as data incentive.
Call or Whatsapp: 0803 561 7233, 0703 414 5611