Wike has denied allegations of seeking a third term through Fubara.

Fubara is a top ally of Wike and a former Accountant-General of Rivers State.

During a media chat, Wike maintained that Fubara is an independent person capable of exercising his own judgment and choices.
EKO HOT BLOG reports that the Governor of Rivers State, Nyesom Wike, on Wednesday, debunked claims that he will run a third term through the governor-elect, Siminialayi Fubara.
Speaking in a media chat on Wednesday, Wike insisted that Fubara is a man of his own who can make his own decisions.
Fubara is a former Accountant-General of Rivers State.
EDITOR'S PICKS  
"It is for him (Fubara) to make his mark. He knows the dream of the government, he knows what the government has done, that is politics," Wike said.
"Everybody knows the importance of Rivers State. He (Fubara) does not need to seek for relevance, he is already relevant.
"Everybody determines what he or she wants to be. And I do know he is somebody who is calm. He is not the talking type, he is the quiet type, but he is an achiever.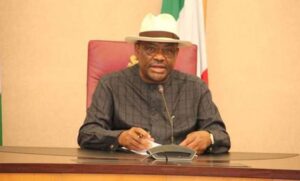 FURTHER READING  
"He knows where we have stopped, so this issue of me influencing his decisions does not hold water," Wike said.
Click to watch our video of the week:
---
Advertise or Publish a Story on EkoHot Blog:
Kindly contact us at [email protected]. Breaking stories should be sent to the above email and substantiated with pictorial evidence.
Citizen journalists will receive a token as data incentive.
Call or Whatsapp: 0803 561 7233, 0703 414 5611