Below are the Major Nigeria Newspaper Headlines from Nigerian Newspapers today:
POLITICS AND NATIONAL NEWS
EKO HOT BLOG reports that the Independent National Electoral Commission (INEC) will extend the deadline for its Continuous Voter Registration exercise, national commissioner Festus Okoye said on Friday.
EKO HOT BLOG reports that Political parties on Friday were given two conditions by the Independent National Electoral Commission (INEC) to change their vice-presidential candidate or candidates.
EKO HOT BLOG reports that the presidential candidate of the New Nigeria People's Party (NNPP), Rabiu Kwankwaso, on Friday, visited the Governor of Rivers State, Nyesom Wike in Port Harcourt.
EKO HOT BLOG reports that a federal lawmaker Senator Smart Adeyemi has said Senators will not abandon Senator Ike Ekweremadu and some of them are making efforts to reach out to him.
EKO NEWS
EKO HOT BLOG reports that the 7th annual Micro, Small and Medium Enterprises Exclusive Fair will take place in Lagos State at the Blue Roof in Agidingbi from Tuesday, June 28, to Sunday, July 3, 2022.
EKO HOT BLOG reports that the Centre for Promotion of Imports (CBI) from Developing Countries, based in the Netherlands, and the Lagos State Ministry of Women Affairs and Poverty Alleviation (MWAPA) are collaborating to empower women citizens of Lagos in the production and export of shea butter.
EKO HOT BLOG reports that Dr. Obafemi Hamzat, the deputy governor of Lagos State, has given the nation the challenge of focusing its efforts on speeding improvement in the five pillars of the digital economy.
EKO HOT BLOG reports that despite the difficulty of diesel scarcity, Lagos Waste Management Authority, or LAWMA, has reassured citizens of its steadfast commitment to a clean environment in the state.
METRO
EKO HOT BLOG reports that the police on Friday said it has recovered three stolen vehicles from Niger Republic.
INTERNATIONAL
EKO HOT BLOG reports that Ukrainian forces have been ordered to withdraw from Severodonetsk.
READ MORE
EKO HOT BLOG reports that clinics have begun closing in some US states after a Supreme Court ruling on Friday removed American women's constitutional right to abortion.
EKO HOT BLOG reports that hours after the U.S. Supreme Court ruled to overturn Roe v. Wade on Friday, thousands gathered in New York City to voice their fears and anger over the historic decision to eliminate the constitutional right to an abortion.
ARTICLE
Kidneys are chiefly responsible for filtering and getting rid of excess fluids and waste products from your blood. However, due to some reasons, some persons' kidneys stop performing these functions for months or years. This medical condition is referred to as Chronic Kidney Disease and it has no cure.
The smartphone is one of the most portable internet-enabled gadgets that is useful for several technological purposes but can easily be damaged due to its fragile nature. There are a couple of practices most persons are fond of that are considered hazardous to the smartphone, thus; reducing its lifespan.
SPORTS
EKO HOT BLOG reports that Arsenal have agreed a £45 million ($55m) deal with Manchester City for Gabriel Jesus, GOAL can confirm.
EKO HOT BLOG reports that Tom Keane, brother of former academy graduates Michael, is set to join Manchester United as consultant to help with transfer dealings
EKO HOT BLOG reports that Chelsea has spoken to the representatives of Ajax winger Antony as they look to beat Manchester United to the 22-year-old's signature before the start of next season, according to reports.
EKO HOT BLOG reports that the week 51 pool fixtures are for forty-nine (49) football matches for UK football 2021/2022 from the pool agent.
EKO HOT BLOG reports that the week 51 pool results are for forty-nine (49) football matches for UK football 2021/2022 from the pool agent.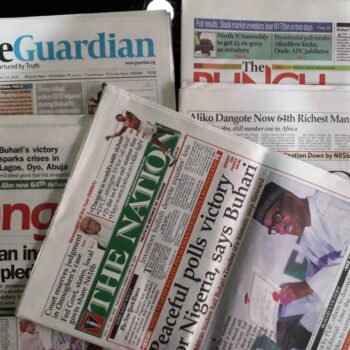 Good morning! Here is today's summary from Major Newspapers in Nigeria
Punch Newspaper
1. CVR: DSS arrests three over fake registration centre, extortion
The Department of State Service has arrested three persons for allegedly operating a fake Continuous Voter Registration centre and for extorting eligible voters by promising to enroll them in the ongoing registration exercise in Nasarawa state.
The INEC acting Head of Department, Voter Education and Publicity, Ibrahim Onawo, disclosed this while speaking to our correspondent in Lafia on Friday.
Onawo explained that the three suspects were arrested by the DSS operatives while they were distributing registration forms to eligible voters at the Government Science Secondary School, Lafia.
He said the arrest of the suspects followed a tip-off by the committee set up recently to investigate alleged extortion of eligible voters in the state.
2. Adamawa: Police arrest 87 kidnappers, rescue 20 victims in three months
The Adamawa State Police Command has rescued 20 kidnap victims and arrested 87 Kidnappers over the last three months across the state.
The state's new Police Commissioner, Sikiru Akande, disclosed this while addressing journalists, in Yola, on Friday.
Akande said the crackdown by the police on criminal hideouts in the state led to the arrest of 13 kidnap suspects and the recovery of One AK 47 riffle, two locally-made double barrel pistols, and two den guns.
Others are 24 rounds of live ammunition, one leg chain, padlock, military uniform, three motorcycles, cash sum of N358,500 and others.
3. Abortion: US Supreme Court ruling big step backwards, says Boris Johnson
British Prime Minister Boris Johnson on Friday called a US Supreme Court ruling ending the federal right to abortion "a big step backwards".
Johnson, in Kigali for a Commonwealth heads of government meeting, said the court's rulings have "massive impacts on people's thinking around the world".
"I think it's a big step backwards. I've always believed in a woman's right to choose and I stick to that view, and that's why the UK has the laws that it does."
Vanguard Newspaper
4. Motorcyclist bags 3 months in jail for recklessness on highway
An Abeokuta Magistrates' Court on Friday sentenced a 23-year-old man, Awalu Bello, to 3 months in  prison for riding his motorcycle recklessly and dangerously on the public highway.
Bello whose address was not provided, was convicted following his plea of guilty to the five-count charge of dangerous driving, unlawful damage, riding without licence and protective helmet.
The Magistrate, Mrs O.M. Somefun, convicted Bello following his plea and held that the prosecution proved its case beyond reasonable doubt that the convict was guilty as charged
She thereafter, sentenced him with an option of N20,000, saying that it would serve as deterrent to other riders who drove dangerously on the highway.
5. Gunmen kill 2 policemen in Benue
Police Command in Benue has confirmed the killing of two policemen on Makurdi-Lafia road by gunmen on Friday.
The police spokesperson, SP Sewuese Anene, confirmed this to newsmen on Friday in Makurdi.
"I received information that two policemen died in an operation on Makurdi-Lafia road, but I am yet to receive details, please," Anene said.
One of the residents in Yelwata, Guma Local Government Area of the state who pleaded anonymity, said the gunmen killed the policemen and stole their guns.
6. FG shares $322.5m Abacha loot to 1.9m Nigerians in 4 years — ANEEJ
THE African Network for Economic and Environment Justice, ANEEJ, yesterday, revealed that the $322.5million stolen funds from former Military Head of State Gen Sani Abacha between 2018-2022 has been shared to 1.9million poor and vulnerable Nigerians.
Before making the disbursement, the money accrued an interest of $11 million where it was deposited.
Executive Director of ANEEJ, Rev.  David Ugolor made this disclosure while briefing Journalists on, in Abuja.
According to him, the Abacha loot is exhausted. An interest of $11 million was accrued in the money where it was saved and it was disbursed to around 1.9 million poor Nigerians.
The Nation Newspaper
7. Fed Govt seals 358 pharmacies, medicine shops in FCT
The Federal Government said that it sealed 358 pharmacies and patent medicine shops in the Federal Capital Territory (FCT) in four days.
It stated the sealing of the pharmaceutical premises for various offences, including operating without registration, fake licenses, dispensing ethical products without the supervision of a pharmacist, poor storage and sanitation, etc was in line with its mission to ensure that medicines consumed by Nigerians are safe, effective and of good quality as they transit from one level of the distribution chain to another.
The Registrar of the Pharmaceutical Council of Nigeria (PCN), Pharm Ibrahim Ahmed, who made this known in Abuja while addressing journalists, revealed four patent medicine vendors have been arrested and are being prosecuted.
He further disclosed that since 2018 till date, its national enforcement team has visited more than thirty thousand pharmaceutical premises and sealed more than twenty thousand across the country.
He said: "The proliferation of unregistered medicine shops has remained a major obstacle in the actualization of the National Drug Distribution Guidelines (NDDG). Many of these premises involved in sale of medicines to the public do not have appropriate storage facilities thereby exposing medicines to harsh environmental factors like high temperature and humidity.
8.

NDLEA arrests 99 suspects, seizes 7,889kg drugs in Ogun
The Ogun Command of the National Drug Law Enforcement Agency (NDLEA), on Friday said it arrested 99 suspects with a total of 7,889.03 kgs of illicit drugs from January to June.
Ishaku Kwajafa, the Commander of NDLEA in the state, made the disclosure at a programme organised to mark this year's United Nations International Day against Drug Abuse and Illicit Trafficking (IDADAIT).
The theme of the event, held at the Command's Headquarters at Oke-Ilewo, Abeokuta, is "Addressing Drug Challenges in Health and Humanitarian Crises."
Kwajafa said the suspects comprise of 80 males and 19 females.
He added that the command also seized 82,766 tablets of assorted psychotropic substances and 17.3 litres of codeine.
Furthermore, the Commander explained that the command counseled 34 clients and convicted 21 offenders during the period under review.
Daily Post
9. 2023: INEC gives two conditions for parties to change nominated candidates
The Independent National Electoral Commission (INEC) has listed two conditions for political parties to change nominated candidates or running mates of their presidential candidates.
INEC's Commissioner on Information and Voter Education, Festus Okoye, disclosed this while appearing on Channels Television's programme, Politics Today, on Friday.
"A political party cannot substitute a nominated candidate, except in two instances: if the nominated candidate dies. Or if the nominated candidate withdraws from the race.
"Any withdrawal must be accompanied by a letter written by the nominated candidate to the political party, indicating he has withdrawn from the race, along with a sworn affidavit sworn.
"The party will now forward same to INEC. And these are the documents of withdrawal, which will state who the replacements are.
10. Akeredolu appoints Sowore, Ologbese as commissioners
Governor Oluwarotimi Akeredolu of Ondo State, has nominated two commissioner designates in the state.
The two nominees are Akinwumi Samson Sowore and Prince Joseph Adeboboye Ologbese.
In a statement issued by the Chief Press Secretary to the governor, Richard Olatunde, the names of the nominees had been forwarded to the State House of Assembly for screening, clearance and confirmation.
Sowore is from Ese-Odo Local Government Area of the state while Ologbese hails from Akoko South West Local Government.
Thank you for experiencing our major newspaper headlines for today. More tales are offered on EKO HOT BLOG internet site. (Click Here)
We publish newspaper headlines every morning on Ekohotblog
---
Advertise or Publish a Story on EkoHot Blog:
Kindly contact us at [email protected]. Breaking stories should be sent to the above email and substantiated with pictorial evidence.
Citizen journalists will receive a token as data incentive.
Call or Whatsapp: 0803 561 7233, 0703 414 5611