A US journalist and filmmaker Brent Renaud was shot and killed by Russian troops in Ukraine.

Brent Renaud and his brothers Craig Renaud have worked in several war and conflict zones over the years, including Iraq, Afghanistan, Egypt, and Libya.
EKO HOT BLOG reports that Brent Renaud, a United States journalist was shot dead and another wounded on Sunday in Irpin, a frontline northwest suburb of Kyiv, medics, and witnesses confirmed to newsmen.
Danylo Shapovalov, a surgeon volunteering for the Ukrainian territorial defense, said one of the Americans died instantly and he had treated the other.
Read Also: Ukraine Invasion: Zelensky Hits Out At NATO, EU, Says 'They Lack Courage'
Brent Renaud, an Award-winning American filmmaker killed in Ukraine in the early hours of Sunday.
Cliff Levy, deputy managing editor at the New York Times said the newspaper was "deeply saddened" by his death but confirmed he was not on assignment for the New York Times at the time, although he had previously worked for it.
The statement said: "We are deeply saddened to hear of Brent Renaud's death. Brent was a talented photographer and filmmaker who had contributed to the New York Times over the years.
"Though he had contributed to the Times in the past (most recently in 2015), he was not on assignment for any desk at the Times in Ukraine.
"Early reports that he worked for the Times circulated because he was wearing a Times press badge that had been issued for an assignment many years ago.
Mr. Renaud usually works alongside his brother, Craig Renaud, but it is not known if they were both in Ukraine.
The brothers have worked in several war and conflict zones over the years, including Iraq, Afghanistan, Egypt, and Libya.
They have won several top awards for their work, including a Peabody for a series they made for VICE News on a Chicago school for disruptive students.
Their website says they live and work in New York City and Little Rock, Arkansas.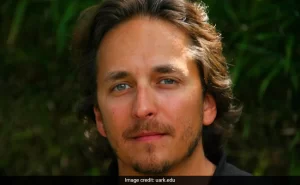 You May Also Like: Putin Holds 75-Minute Call With France, Germany On How 'To End War In Ukraine' (Read Details)
Click to watch our video of the week:
---
Advertise or Publish a Story on EkoHot Blog:
Kindly contact us at [email protected]. Breaking stories should be sent to the above email and substantiated with pictorial evidence.
Citizen journalists will receive a token as data incentive.
Call or Whatsapp: 0803 561 7233, 0703 414 5611