7th Russian General has been Killed In Ukraine 

The Russian general who said the war would take hours is killed in Ukraine
EKO HOT BLOG reports that a seventh Russian general has been killed on the battlefield in Ukraine, according to western officials.
Lt Gen Yakov Rezantsev, 48, was killed in an airstrike in the southern city of Kherson, which Ukrainian troops are poised to take back from Vladimir Putin's forces.
Read Also: Ukraine Crisis: Russian Commander Deliberately Killed By Own Troops
On the fourth day of the invasion, Lt Gen Yakov told Russian soldiers that they could achieve victory in a matter of hours, according to intercepted communications shared by Ukraine.
Western officials say Rezantsev is the seventh general and second lieutenant general to die in the war.
Senior officers are thought to have been placed closer and closer to the frontline as Russian troops suffer heavy losses and a serious drop in morale.
Rezantsev was killed at the Chornobaivka airbase near Kherson, which Russia was using as a command post, according to Ukrainian media.
It follows reports that a Russian brigade commander was run over by a tank driven by his own troops – angry at the scale of the casualties they had faced.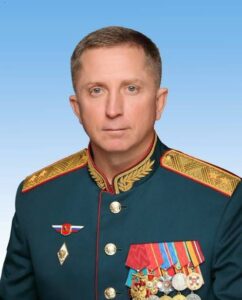 You May Also Like: JUST IN: Ukrainian Forces Recapture East Of Kyiv As Russian Troops Fall Back
Click to watch our video of the week: 
---
Advertise or Publish a Story on EkoHot Blog:
Kindly contact us at [email protected]. Breaking stories should be sent to the above email and substantiated with pictorial evidence.
Citizen journalists will receive a token as data incentive.
Call or Whatsapp: 0803 561 7233, 0703 414 5611