President Buhari has officially unveiled the redesigned naira notes to the general public.
EKO HOT BLOG reports that the Federal Government of Nigeria has officially unveiled the redesigned naira notes to the public.
President Muhammadu Buhari unveiled the newly designed Naira notes at the Federal Executive Council meeting held in Abuja.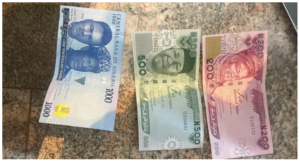 EDITOR'S PICKS
The unveiling today marks the first time in 19 years Nigeria will be redesigning its currency notes.
At a briefing after the ceremony before the Federal Executive Council meeting, the CBN governor debunked insinuations suggesting that the early unveiling of the new notes is a means to target some Nigerians.
Mr Emefiele appealed to members of the public, urging them to desist from making such speculation, adding that there is no need to perpetuate any such information.
He further warned Nigerians against holding the old notes, saying there is no going back on the January 31st, 2023 deadline to completely render the old notes useless.
FURTHER READING
The redesigned notes are in denominations of N1000, N500, and N200.
Click to watch our video of the week:
---
Advertise or Publish a Story on EkoHot Blog:
Kindly contact us at [email protected]. Breaking stories should be sent to the above email and substantiated with pictorial evidence.
Citizen journalists will receive a token as data incentive.
Call or Whatsapp: 0803 561 7233, 0703 414 5611