18-years-old Adeoye Fawaz, Winner of 'Chess in Slums Competition' in this interview narrates to Neusroom Yusuf Omotayo how he came to live in the slum under Oshodi Bridge. He talks about his life, family and how he eventually emerged winner of a chess competition organised in the slum that changed his life.
Early life                        
Fawaz was born on May 15, 2003, the first child of his parents. His mother had four other children. He told me living with his father was difficult because his parents were always in constant fights, some lasting far into the night.
"My father was a bus driver while my mother was a hairdresser. My parents fought so much that my mother moved out of the house with her children at a point. There, life got better, and I started to attend school."
With nostalgia, Fawaz recalled how his mother took him to a tailor's shop when he was in JSS1 to learn to sew clothes alongside his secondary school education to provide a second option if he did not proceed past secondary school.
Read Also: Nigerians, Nollywood Stars React As Actress Opeyemi Aiyeola Battles 'Strange' Illness
"My mother had our best interest at heart. Despite raising four children independently, she did not let us lack anything. As for my father, he remarried and forgot about my siblings and me. I don't think he can recognise us again because we have not seen him since we moved out."
Fawaz's face darkened, visibly angry when he talked about his father. I asked him why and his voice shook when he responded.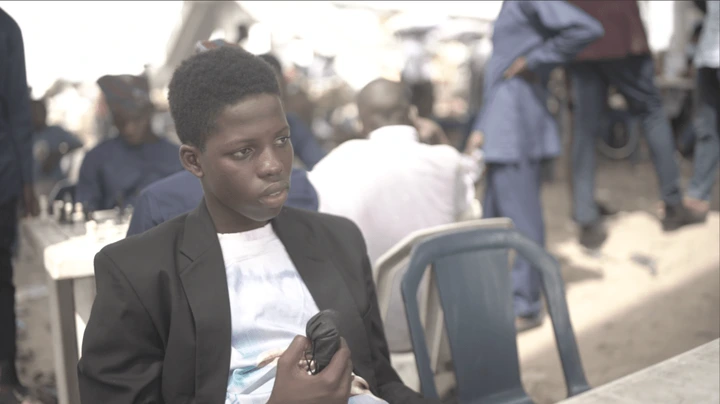 "He never cared about us. He does not know what my younger ones or I look like. He never asked after us or came visiting when we left. I don't think I want to see him again. He doesn't even know if I am still alive."The trajectory of Fawaz's life took a different direction when he was in JSS2. His mother fell ill, and for a long time, she was confined to a bed where she received treatment at home because she could not go to the hospital. After a few weeks, she passed away, and the family held a meeting where it was decided that Fawaz and one of his siblings would go and live with their grandmother while two other siblings were taken to other family members. They stopped going to school but helped their grandmother on the farm. Still, his father did not show up.
"It wasn't long after we moved to our grandmother's house that I decided to leave. I had learned tailoring for two and a half years, and I felt I could make good use of it in Lagos. That was when I moved to my aunt's place in Iyana Oworo, Lagos."
Move to Lagos
In early 2020, Fawaz and his younger brother moved to his aunt's house in Iyana Oworo, which he described as his first visit to Lagos.
Iyana Oworo is a Lagos slum community separated from the rich-dominated Island by the Lagos Lagoon.
He and his mother's younger sister did not get along, which led to numerous quarrels.
"We quarrelled all the time. Most of the time, it was caused by me not doing whatever she asked me to do."
The fights reduced when he worked in a bakery where he helped distribute bread. There, the 17-year-old found peace as he was away from the constant arguments with his aunt. Sometimes, he would be away for a week, only coming home on weekends to renew the quarrels. This time, according to Fawaz, the fights were caused by money.
"Anytime I come back home from the bakery, my aunt would demand money. If I give her, everything will be fine. If I don't, it is going to lead to a quarrel."
Fawaz started spending more time outside his aunt's house and more time in the bakery. There, he met young children like him who had left their homes and were doing menial jobs to survive on the streets.
One day, he went home on one of his infrequent visits, and according to him, his aunt asked him for some money.
"I used to give her money in the past, but on this particular day, I refused. How could I go and work, and someone else will be spending the money I make?"
Shortly after that, his aunt sent him on an errand, and he responded that he would attend to it later at his convenience. In reaction, she beat him.
"I think it was because of the money I refused to give her that made her beat me. She beat me so much that at one point, I could not bear it, and I grabbed the whip from her hand and threw it away. She was furious at me because I had not done that before, and she wanted to beat me with her hands. I got annoyed and left her house and returned to the bakery."
Fawaz spoke with some of the boys that worked with him at the bakery, and they told him they slept under the bridge in Oshodi. He considered going back to Ibadan, but there was no one to go and meet. He did not know where his father lived, and memories of how his father was a deadbeat dad made him decide, going to Ibadan was not an option. Instead, he resolved that he would only return to Ibadan after making some money.
"I told myself going to Ibadan would be a failure", Fawaz said stoically. "I made up my mind that I would work for money in Lagos and return to Ibadan as a rich man."
Life under the bridge
In late 2020, six months after getting to Lagos, Fawaz moved to Oshodi with some boys. On his first day there, he marvelled at how the boys survived and slept in the squalor around them with the constant noise of market people, screeches of buses and periodic horns of trains. Even while we spoke, it was difficult to hear each other clearly, and we had to raise our voices to communicate.
"When I got here," he said, sweeping his hand around to indicate the place around him, "I could not believe it that people could sleep with the smell of urine around and the cold. The cold here is serious, and the sound of cars in the middle of the night is constant and even louder. I wanted to run back."
But Fawaz did not leave. He could not return to his aunt's place due to the circumstances surrounding his exit, and he could not go to Ibadan because there was no one to go to and because he felt he would be considered a failure, someone who came to Lagos and achieved nothing.
He described his first night as brutal as he slept without food and was cold. The following day, he asked the young boys what they do for food, and they told him they worked as conductors.
"I started working as a conductor too, except that it's not guaranteed work. Any morning I wake up late, the buses would have found another conductor, and I would not have any work to do, which also means no food.
I realised that I could not rely on the conductor's work alone, and I approached someone who sold facemasks in traffic if I could get the facemasks and sell too for a commission, and he agreed."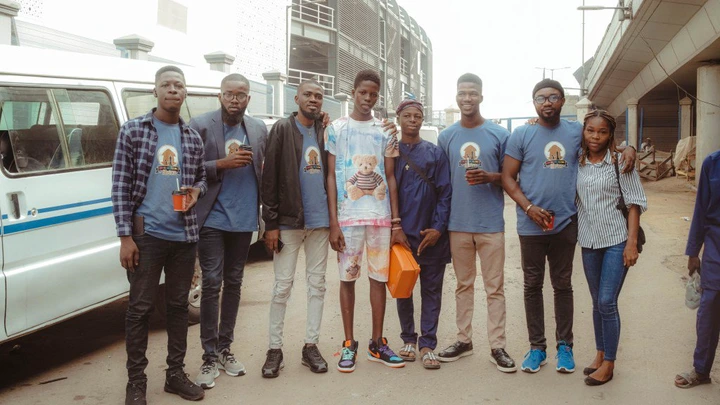 After helping bus drivers call passengers in the early morning hours, Fawaz would sell facemasks in Oshodi traffic in the afternoon before helping market people transport their loads for a small fee.
"I did not like any of the work I was doing because they were dangerous, but there was nothing else to do. I even tried to get work with LAWMA (Lagos Waste Management Authority) to help with sweeping the road, but I was sent away."
One afternoon, Fawaz decided not to live under the bridge forever when policemen raided those under the bridge and 'arrested' them.
"We were just sitting doing nothing when policemen came. We fled, but some of us were caught and beaten. They beat me so much I almost fainted. They asked us not to sleep under the bridge again. As I did not have a place to go, I returned there at night to sleep."
The following day after the incident, Fawaz became very ill and could not work. He had to rely on other boys staying under the bridge for food. The cold made the sickness worse, and it lasted more than two weeks.
"In that period, I regretted leaving my aunt's place and would have called her if I had her phone number. Thanks to the boys around, I was able to survive. They are now my family."
Twice, Fawaz attempted to save enough money to leave Oshodi. He kept money in the hands of two people, but they absconded with it. After those experiences, Fawaz made up his mind to live each day as it came.
"The boys here don't stay in one place. You can see them here for a long time, and you may never see them again. I got tired of saving money in the hands of my friends, and I just spent my money. If I am destined to be rich, I will, and if not, I will live life as it is."
According to UNICEF, about 10.5 million children aged 5-14 years are not in school despite free and compulsory primary education in Nigeria. This increases the number of children roaming around the streets and living under bridges fending for themselves and doing everything to survive.
Falling in love with chess – Chess in Slums Competition
"The day Uncle Tunde came here with the chessboards, I was curious, which was why I joined them. I have never seen the game before, and I did not even think I would know how to play it, not to talk of winning."
For two weeks, volunteers at the Chess in Slums Africa taught the children living under the bridge in Oshodi how to play chess. They were distributed into classes and assigned coaches to teach them chess and engage them in mental mathematics.
The Chess in Slums Africa initiative was established in 2018 by Babatunde Onakoya, a chess enthusiast. The non-profit organisation seeks to use chess as a framework to provide impoverished kids in slums an opportunity to escape poverty through mentorship and training.
"In those two weeks, I would be the first person there even before Uncle Tunde, and the rest of the team arrive. I would not eat so I could be there on time. It is only when they arrive and bring food for us that I will eat."
"He told us his life story of how he struggled through life to reach where he is now, and I am inspired to be like him."
Chess became an opening into a new world for Fawaz as he learned the names of the chess pieces and mastered the tricks and moves.
"I loved the game, but I never imagined I would win. I thought the highest I would get was the third position, so it came as a surprise to me that I won."
According to Fawaz, he hopes this win will open a new path in life for him. He plans to continue to practice and be the best chess player in Nigeria. Although he had always thought to return to Ibadan, continue his apprenticeship as a tailor and open his shop one day, now he hopes to focus on chess.
"I hope that I can become rich enough to leave this place and also take all the boys away from here. I don't like sleeping here, and I am sure all the boys will say the same thing. Just a few days ago, a group of security men we refer to as CSO beat some boys found begging for money. They chase us away whenever we beg for money or food. How do they expect us to survive under this condition?"
Fawaz hopes that his newfound fame will bring him better opportunities and a change of fortune as the suffering under the bridge becomes unbearable.
"On some days when I am unlucky and don't get any work, I have to walk to one estate in Mile 2 where the occupants are kind, and they give me food. I hope all this suffering ends soon so that one day, I can return to Ibadan as a successful man than the one that left there in 2020. As for my dad, I have no intention of ever seeing or helping him. He doesn't know whether I am dead or alive and how I live. If my mother were still alive, I would not have turned out like this. I probably would have finished my tailor apprenticeship and become an established tailor. That did not work out, but I hope this new opportunity will change my life for good."
Source: Neusroom
You May Also like: Frank Edoho Returns As Host of Who Wants To Be A Millionaire, N20m Up For Grabs
Click to watch our video of the week:
---
Advertise or Publish a Story on EkoHot Blog:
Kindly contact us at [email protected]. Breaking stories should be sent to the above email and substantiated with pictorial evidence.
Citizen journalists will receive a token as data incentive.
Call or Whatsapp: 0803 561 7233, 0703 414 5611