Top APC Governor Sheds Light On Battle For Direct, Indirect Primary Elections
EKO HOT BLOG reports that Abdullahi Sule, Governor of Nasarawa State, has quashed the impression that state governors use their powers to manipulate the primaries of their political parties.
Governor Sule, a member of the ruling All Progressives Congress (APC) made his stance known on Sunday during the Citizens Town Hall Meeting organised by a non-governmental organisation, Youth Initiative for Advocacy, Growth and Advancement (YIAGA) Africa.
He disclosed that the governors do not want to be "boxed" by the options of direct primaries, because it may lead to many legal issues.
Read Also: 2023: Tinubu Reveals Why He Will Win Presidential Election
Sule said: "We just finished our elections in APC in some states and they don't even have excos (executives) in that party, so that way they choose direct primaries."
Furthermore, the Governor asserted that the his colleagues respond to the desires of their people in making party decisions.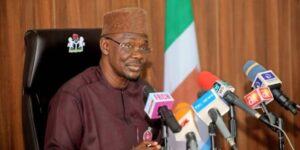 "The state governors are not against direct primaries. The governor's had a meeting and decided that 'Why do you want to box us into an option?' The bill is far more than direct or indirect primaries.
"In our party, the APC, there are three options. Consensus, indirect or direct. We want to avoid constitutional issues.
"I don't really care whether we have direct or indirect election," Governor Sule submitted.
The news dominating the headlines presently is President Muhammadu Buhari's refusal of assent to the Electoral Act (Amendment) Bill 2021. While the bill includes other important provisions aimed at patching up our admittedly raggedy electoral process—electronic transmission of results, for instance—it is the proposition of direct party primaries that constitutes the big bone of contention.
You May Also Like: Osun APC and The Lyrics of Reconciliation
Click to watch our video of the week:
---
Advertise or Publish a Story on EkoHot Blog:
Kindly contact us at [email protected]. Breaking stories should be sent to the above email and substantiated with pictorial evidence.
Citizen journalists will receive a token as data incentive.
Call or Whatsapp: 0803 561 7233, 0703 414 5611