Hon. Owolabi Ajenifuja during his birthday and Ramadan lecture celebration organized for the indigenes of Lagos Island publicly declared his intention to run for Lagos State House of Assembly

He described his aspiration as the collective aspiration of the people of Lagos Island as he reeled out his activities in the field of politics over the years
EDITOR'S PICK:
SEE THE FULL VIDEO HERE
EKO HOT BLOG reports that a senior special assistant on wealth creation to the Lagos Island Local government, Hon Owolabi Ajenifujah has made public his intention to vie for the Lagos State House of Assembly seat for Lagos Island Constituency 1 in the forthcoming 2023 election.
This online media platform recalls that Owolabi, an astute politician and a volunteer, is a marketer, and a skilled entrepreneur.
Owolabi Ajenifuja is also a human resources management professional and a project implementation expert with a stellar public service record.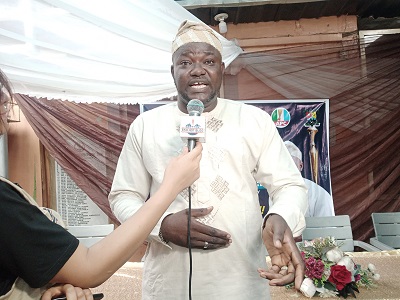 He made this declaration during his birthday and Ramadan lecture celebration organised for the indigenes of Lagos Island on the 24th of April 2022 at the Idanganran club of Lagos, in Lagos Island.
The event, which had in attendance different Muslim clerics and members of the Islamic community from different parts of the constituent, was flagged off with a special prayer session to usher in a new year and season for the celebrant as he declared his political aspiration.
Speaking with EKO HOT BLOG at the event, the Owolabi Ajenifuja described his aspiration as the collective aspiration of the people of Lagos Island as he recounted his activities in the field of politics over the years.
"To God be the glory! I've been actively involved in politics, and my coming into politics was borne out of the quest of rendering services to Humanity. I have been a member of different voluntary organisations that believe in rendering services to humankind.
"After I left school, I joined politics during the era that was a little bit difficult for people to desire politics. It was that time when people come together for the survival of our nation – during the annulment of June 12.
"I was one of the youths who came in and believed in the principles of mankind, and other organisations that believed in one Nigeria and that democracy must come to stay in Nigeria, and to God be the Glory we had Democracy in 1999.
"After democracy was actualised in 1999, I came into active politics in Lagos Island,  being a resident of Lagos Island. This was during the second term of Asiwaju Bola Ahmed Tinubu. As a research officer in the independent campaign group at Arumere, Ikeja, I was part of those who contributed to the successful re-election of Asiwaju Ahmed Tinubu.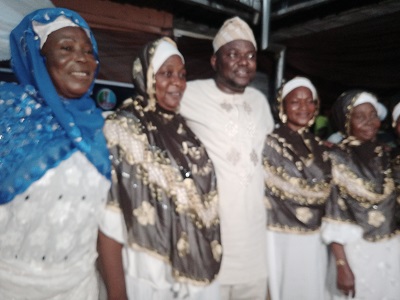 "I aspired severally to become an honourable member of the local government, that is Councilor of ward A1 axis of Lagos Island, this is how I have been playing my Politics. To the Glory of God, this has allowed me to be involved in governance at the local level. I had my first opportunity in governance under the administration of Hon Wasiu Eshilokun. I was a member of the market board.
"Market Board simply means people coordinating the activities of the conventional market in Lagos Island. In Lagos Island, we have seven conventional markets, and these markets are under the Market Board. We must visit them to make sure that they comply with rate payment and to ensure the local government can carry out the project they have promised the masses. This we were able to do without any violence, but with proper coordination of the people, things started looking up.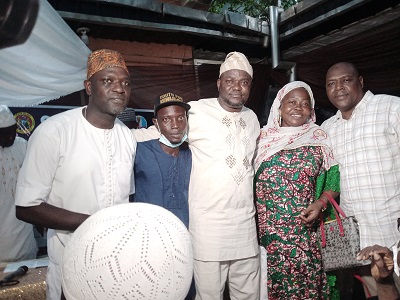 " After successfully running the Market Board under the tenure of Hon. Wasiu Eshilokun, in 2016 the next chairman, Hon Adetoyinshe Olusi, made me an executive secretary to the local government when he came on board.
"During his time I became the protocol officer. My sole responsibility was to relate with all politicians seeking to contribute their quota to the success of the government, this allows me to interface with the government and the political class on Lagos Island. After this, we went into a break and then had another election.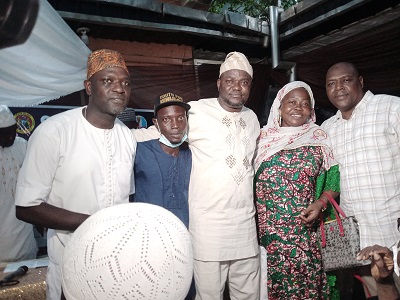 "Hon  Adetoyinshe Olusi was re-elected as the Executive Chairman of the local government and I came back as the protocol officer which gave me another opportunity to serve as the Revenue Committee Chairman.
"During this time, we were able to introduce an electric print bill. We were formerly using the black and white processes on a computer, but this time we introduced the E-Billing, which brought about the E-Billing system. Before this time, the rates were at N500 naira per conventional market making a total of N6, 000 per annum. After several consultations with the market men and women, we were able to make them see that things can't continue that way, as the need to generate more funds became glaring.
"The Lagos Island is a local government and among the 20 local governments in the state. We were classified under A Plus and as A Plus we have to be able to fund ourselves, which was the reason we went back to the drawing board to factor out how to raise the local government revenue generation to about  50%, which we successfully achieved.
"Following my achievement as the Revenue Committee Chairman, I was drafted a second time as Hon Adetoyinshe Olusi Special Assistant on Wealth Creation when he was returned in office.
"Sincerely this also allowed me to interface with influential people. Creating wealth is not all about sharing money, it's not about doing poverty alleviation, it's about ensuring people are adequately equipped to become skilful. We take people on skill acquisition training after which we introduce small scale entrepreneurs to develop them.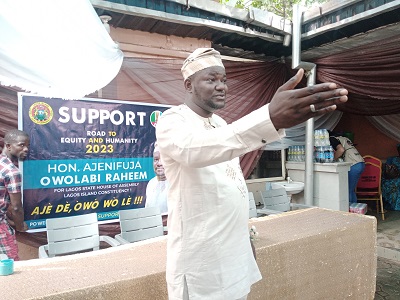 "This is done to generate ideas, business plans and how they will put into practice the training they have acquired. So what we introduce during this time as wealth creator is for us to train people to become skilful. We now tell them how to use their skill and turn them into a business that was lifting people out of poverty.
"It's not by just giving them 20,000 for them to start a business, we train them to become skilful so that whatever equipment we give to them they will know how to manage and use it effectively.
"Having done all these in this local government where I reside, I can say that it has given me the needed experience, as I can boast that I know my people and can tell where the shoe is aching the people in my constituency.
"I live with them, I wine with them and so I can say this is what they need. And because l am currently handling the Wealth Creation, the new thing I want to bring in if allowed to serve at the chamber is wealth creation. I want to focus on youths who are the most important member of every nation.
"We have three different categories of youth; we have the teenagers, we have those within 18 to 20 years age bracket, and we have those that are mature. Considering this classification, we must then know how to integrate them into society, seeing they are Y2K compliant. With this, we have a task of ensuring the grassroots and by extension, our youths acquire skills that can sustain them.
"This is the reason I have come out to say that if I am given that opportunity my primary objective is for oversight function at the legislation
"The primary objective of any legislation is an oversight function. Ensuring the things that can better your consistency is brought to your constituent. Not by going there to throw chairs at each other or by engaging in violence but to dialogue and lobby other colleagues at the chamber to make life meaningful to my people here.
"Alhamdulillah, today is a three in one programme, I do this every year to celebrate my birthday, especially if it falls in the holy month of Ramadan. To the glory of God, my birthday has been coinciding with this period. I am celebrating my birthday today and I am organising a Ramadan lecture at the same time, as well as using that opportunity to flag off the campaign.
"After due consultations with the leadership and the youth of my constituents – without the youth, we cannot say the leadership are more powerful than them. We know that in the political party we find ourselves we must honour our leaders, they are the DE-Factor.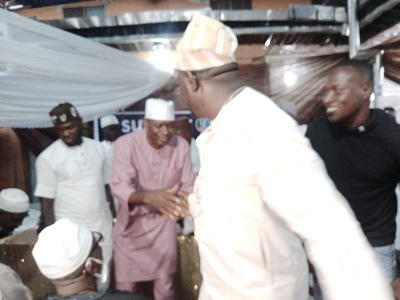 FURTHER READING:
"So having discussed with the leadership of the party and having reached out to the people of my constituents, I have received notes some gave and some gave advice on how to go about it.
"With these notes and advice from the people of my constituents and my faith in God who is the only one that can ensure we are successful in what we do – by his Grace will take me there, he recounted."
Hon. Owolabi thanked all those who took out time to celebrate with him and further promised to deliver the dividends of democracy to the people as he had always done in times past
"For those who came from far and near – Lagos is a cosmopolitan state where you must bring all forces together, those from my belief who came specially for the Ramadan lectures, my political associates who also came because they know I want to flag off my campaign and also some elderly people in our midst who have come to give their blessings.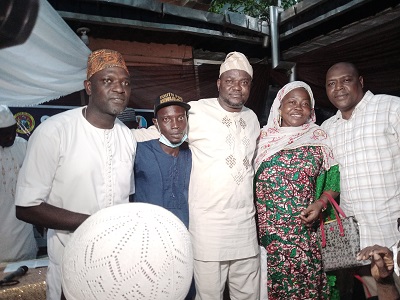 I also have my business partners too who are my associates in the profession and field, my colleagues and those from my Alma mater, who have been supportive and have trust in me, who want me to represent the good people of Lagos Island Constituency 1 at the House Of Assembly come 2023.
"Inshallah! I want to say thank you to everybody that attended my program, I wish you a safe trip back home"
Click to watch our video of the week: 
---
Advertise or Publish a Story on EkoHot Blog:
Kindly contact us at [email protected]. Breaking stories should be sent to the above email and substantiated with pictorial evidence.
Citizen journalists will receive a token as data incentive.
Call or Whatsapp: 0803 561 7233, 0703 414 5611