House of Reps air conditioners have broken down.
EKOHOTBLOG reports that the House of Representatives, on Tuesday rushed through the legislative business of the day, decrying the unbearable heat in the chamber after the AC broke down.
A member of the House, Haruna Dederi (APC-Kano), through Point of Order, had pleaded for the plenary to be adjourned.
The lawmaker, while raising the other, said, "Sir Order 7 of the rules of this House has given you powers to absolutely control whatever goes on here to preserve decorum.
"To preserve the atmosphere within which we should operate. We are  suffocating because the place is extremely hot. In my opinion Sir, we could have a way of either adjourning the business of the day or give time so that the air conditioners can  be out in proper shape. Whatever thing that you can do to save us from this physical situation in which we live," Dederi stated.
In his response, the Speaker of the House of Reps, Femi Gbajabiamila, said, "It is a good point and it it something i just conferred with the deputy speaker, i think what we would do is, that is why i said read your titles and go to your prayers we put the question no debates and we try and run through this as quickly as we can, because we have a couple of matters under consideration for committee of the whole, which i think we should quickly address. We take this one and go straight to consideration of reports, so we can leave here."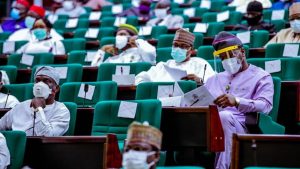 EKOHOTBLOG reports that the development on Tuesday makes it the second time the House of Reps would be cutting short business, due to inconvenience in the Chamber.
YOU MAY ALSO LIKE
BREAKING: House Of Reps Tells Buhari To Declare Bandits As Terrorists
---
Advertise or Publish a Story on EkoHot Blog:
Kindly contact us at [email protected]. Breaking stories should be sent to the above email and substantiated with pictorial evidence.
Citizen journalists will receive a token as data incentive.
Call or Whatsapp: 0803 561 7233, 0703 414 5611