Kaduna Residents ready to protect themselves

The Kaduna people express their disappointment towards the government, over recent attacks 
EDITOR'S PICK 
EKO HOT BLOG Reports that the resident of Kaduna has cried over the recent killings and attack on the state, stating that they would protect themselves if the security cannot protect them.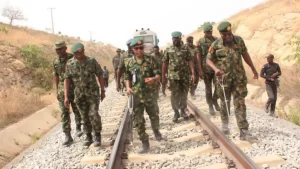 The people on Wednesday called on the securities chiefs and government at every level, challenging them to bring a lasting solution to the problem of insecurity in the state.
The Kaduna people have been in sadness and mourning for so many weeks following the recent attacks. A group of Bandits attacked the Kagoro community in the Kaura area, lives were lost and residents were kidnapped.
Not long after, the bandits moved to the Giwa Local Area, and launched attacks on nine communities there, killing some residents and abducting so many.
The Kaduna-Abuja train bomb incident is not excluded, so many lives also went down the drain. With some others yet to be found.
Again, a bold attack was launched on the military base on Monday at Birni Gwari road, and about 17 Soldiers were killed and many others injured.
The chairman, of Kaduna South, Alhaji Ibrahim Mustapha, in an interview, revealed that he foresaw bandits gaining ground.
His words were:
"The terrorists are getting stronger, the Nigerian security is losing power and dying on a daily basis. The Experienced ones are retired, dismissed or even killed.
"The young boys recruited have no experience, that is why they are lying in the broad daylight like mare chickens, we cannot sit, and watch the battle move closer to our doorstep.
"Another thing is Nigerians are not sincere with themselves, I mean we betray each other, just because of money
"He went further to say that most the bandits were not groomed here in Nigeria, but in foreign nations and are sponsored by top individuals here in the country".
FURTHER READING
Other members of the state also spoke concerning the situation, calling out to the government to take drastic actions.
Click to watch our video of the week
---
Advertise or Publish a Story on EkoHot Blog:
Kindly contact us at [email protected]. Breaking stories should be sent to the above email and substantiated with pictorial evidence.
Citizen journalists will receive a token as data incentive.
Call or Whatsapp: 0803 561 7233, 0703 414 5611